Discover more from Mission GBM
Highlighting scientific, clinical and business innovation targeting Glioblastoma Multiforme (GBM) and other Brain Cancers
Another Birthday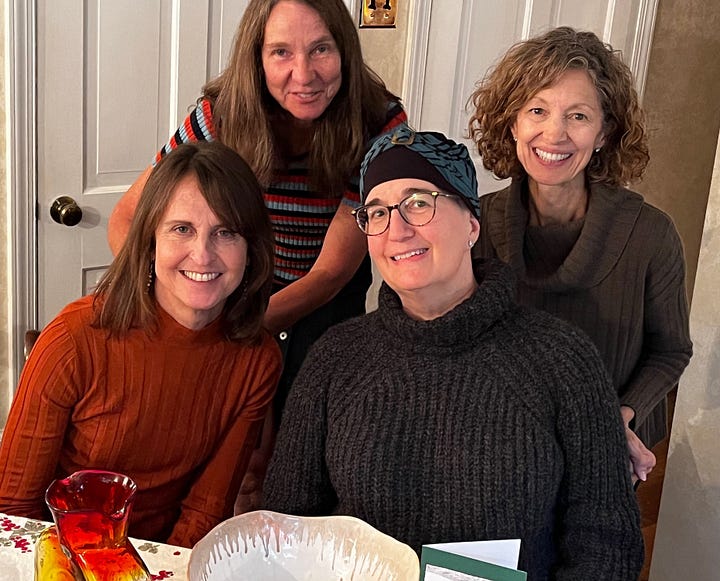 Thank You for the notes of well wishes and inquiry over the past few months regarding Julie.  From a brain cancer perspective, she has been doing well.  In fact, better than we could have realistically expected.  She achieved a Complete Response (CR) in Dec-2022, which has remained stable for the past 11 months.  At 23 months since diagnosis, she is far beyond any prognosis at the time of presentation and well past the 14.6 month median Overall Survival (mOS) of GBM patients following the SoC regimen.  For an unmethylated MGMT patient with a large tumor deeply integrated into the insula and lenticulostriate regions of her brain, the clinical results have been remarkable.
As a result, Julie was able to recently celebrate a milestone birthday with friends as the nearby photos commemorate.  From her point of view, it is all #BonusTime.
The MissionGBM Community Keeps Growing
Approximately one year ago, we started up the MissionGBM community to raise awareness of brain cancer and to document advances in scientific and clinical research potentially useful to the broader brain cancer community.  MissionGBM has assisted over 100 glioma patients worldwide in the past year.  We don't claim to be neuro-oncologists, but we often function as a resource for open-minded neuro-oncologists who contact us in search of peer-to-peer connections and science/evidence-based protocols to improve the outcomes for their patients.  Each case is unique and requires careful consideration.  We are pleased to note that dozens of MissionGBM patients and their neuro-oncologists have elected to adopt the baseline treatment protocol that we put together for Julie (TTF + Pembrolizumab + Fluoxetine with Infliximab as prophylaxis against irAEs).
Julie's is not the only CR that we have seen over the past year for GBM patients following the baseline protocol.
Why So Quiet?
Beyond the inquiries about Julie's health, the most frequent question that we get asked is "Why aren't you posting as often?".
The answer is straightforward: Rigorous Compliance and Confidentiality standards have limited my commentary.
Let me explain.  For most of the 2023, I have been a Venture Partner at a large, multi-strategy healthcare investment fund which has an excellent track record of making significant investments for which clear scientific evidence exists.  The Founder and Managing Partner of the fund is a longtime colleague of mine, who has followed Julie's progress and posed a question to me about a year ago: "Do you think it is possible to scale the results that Julie has enjoyed to the broader brain cancer community?".
To address the question, we built a very well-resourced Brain Cancer group in order to identify and incubate promising brain cancer therapeutic investments.  Experts from the Biopharmaceutical, Medical Device, Clinical Oncology, Neuro-Oncology and Business/Investment domains have been working together this year evaluating nearly 100 opportunities.  It has been a difficult road to navigate.  The fundamental scientific and clinical challenges of brain cancer (primary and brain metastases) are the most difficult that any of us have ever encountered.  In addition, the field of Neuro-Oncology tends to skew towards being Clinical Heavy, but Science Lite.  Too many clinical trials get run without adequate scientific rationale or supporting pre-clinical evidence, which does not increase investor confidence in the area.
We will write about our experiences in due time from the perspective of the key lessons learned.  Compliance and Confidentiality obligations will, of course, be maintained.
Onward.
About that Pledge/Subscribe button that Substack automatically inserts at the bottom of each post: We don't control the addition of the button, and we can't prevent it. Unless Substack someday alters its policies allowing free subscriptions, MissionGBM will always be available to readers at no charge.